Telecommunications Reclaimed
This book is a guide on how to build a community network, a shared local telecommunications infrastructure, managed as a commons, to access the internet and other digital communications services. It was written collectively by a group of community network pioneers in Europe, activists and researchers during a writing residency week held in Vic, Catalonia in October 2018. It was a time of hard work and fast writing, but also of discussions in a friendly environment.
Meant for a wide audience, the book includes practical knowledge illustrated by several hands-on experiences – a set of 32 real- life stories – as well as legal, technical, governance, economic and policy material extracted from netCommons, a three-year- long research project supported by the European Commission. Its goal is to guide the reader through a set of actions aimed at setting up and fostering the growth of a community network, but also, for policy makers, local administrations and the general public, to create the right conditions to let community networks bloom and flourish.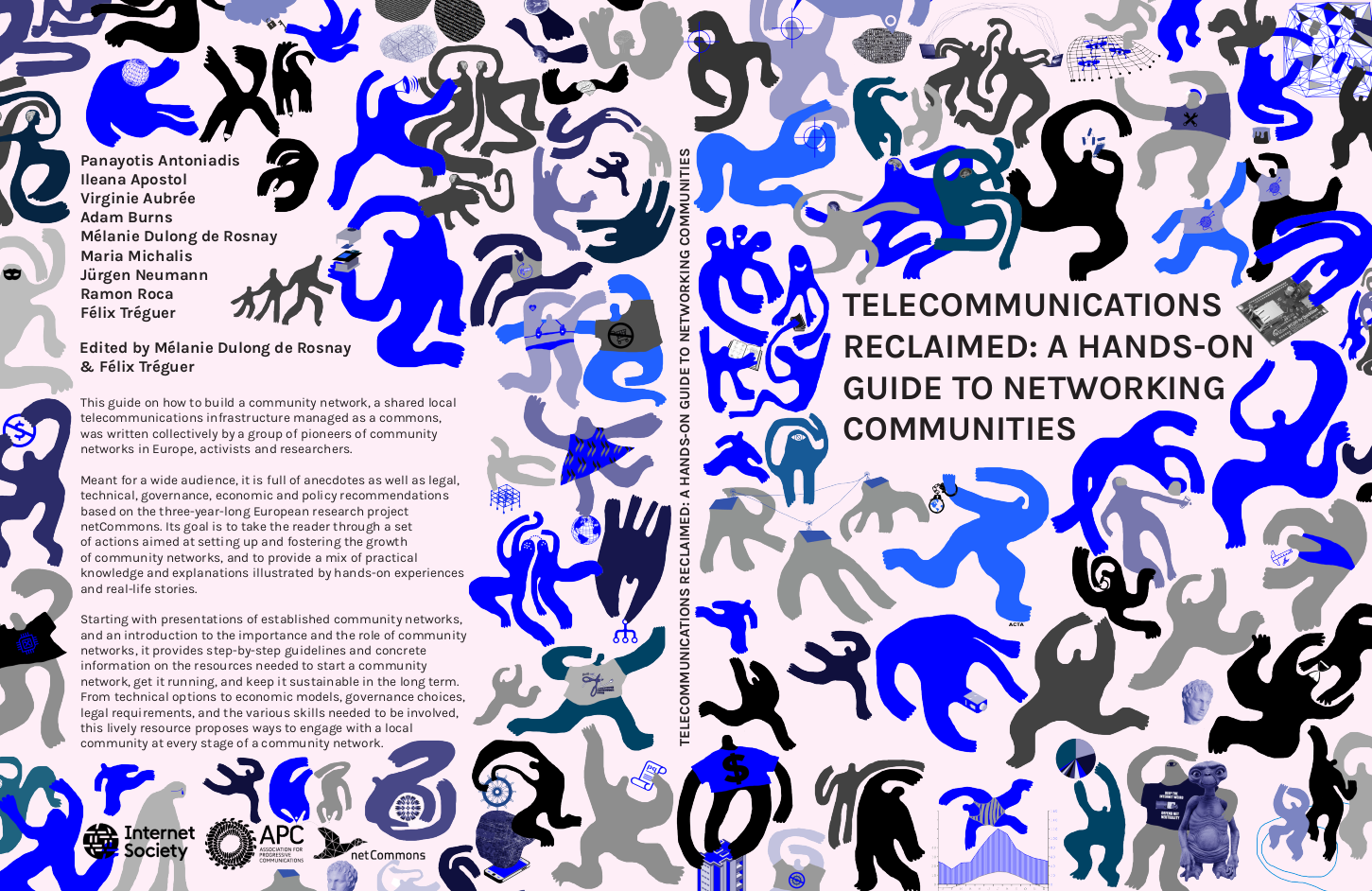 You can download the book (below) or order a print on-demand from Amazon.
Here are two versions for online readability:
And here is are the files for self-printing:
Many thanks to all those who made this possible, and in particular to ISOC and APC who supported the book production.
Credits
Editors
Mélanie Dulong de Rosnay, CNRS
Félix Tréguer, CNRS
Authors
Panayotis Antoniadis, NetHood
Ileana Apostol, NetHood
Virginie Aubrée, University of Trento, University of Paris Nanterre
Adam Burns, free2air
Mélanie Dulong de Rosnay, CNRS
Maria Michalis, University of Westminster
Jürgen Neumann, Freifunk.net
Ramon Roca, guifi.net
Félix Tréguer, CNRS
Contributors of stories
Benjamin Bayart, FFDN
Bruno Spiquel, SCANI
Pierre Crémault, Franciliens.net
Leonardo Maccari, University of Venice
Arthur Messaud, La Quadrature du Net
Mireia Roura, eReuse.org
Oriane Piquer-Louis, FFDN
Illustrations and layout
Sarah Viguer
Booksprint facilitator
Andreas Wichmann
Peer review
Christian Fuchs, University of Westminster
Renato Lo Cigno, University of Trento, University of Brescia
Bruno Spiquel, SCANI
Copy editing
Lori Nordstrom, APC
Publication production support
Cathy Chen, APC